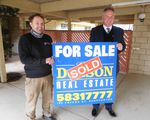 Professionalism & Experience
The high level of professionalism and experience is a credit to the Ray Dobson Real Estate team. I have just sold my loved home of 10 years and throughout the entire process I have been impressed with the service I received. It is great to see a professional company that is dedicated to both their Buyers and Sellers. They kept me involved and informed on every aspect of the sale with honesty and integrity all the way through. I highly recommend talking to Gerry, Geoff or any of their team members at Ray Dobson Real Estate if you are looking to buy or sell a property.
- Chris Willis - 6 Konig Court, Orrvale.