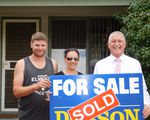 Geoff Made Our Property A Priority.
We would like to thank Geoff Heap and the team at Ray Dobson Real Estate for the prompt and professional sale of our home. Geoff made our property a priority and always made sure we were kept informed, even if that meant giving up his own time on weekends and public holidays. Geoff's kindness and work ethic was far above what we have ever experienced when dealing with Real Estate Agents previously. It is clear that this team genuinely love what they do. Thanks again guys.
- Kerri, Luke and Vanessa. - 34 -36 Bankin St, Katandra West.