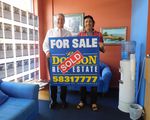 'Well Done & Thank you.'
I would like to say well done and thank you to Geoff and the team at Ray Dobson real Estate for your effort in selling my property. I would highly recommend Ray Dobson Real Estate to anyone wishing to sell their home.
- T. J. Gobbo, - 68 Paterson Rd, Shepparton.