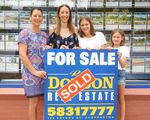 'Terri gave her Best.'
I would like to sincerely thank Terri for being so great to deal with whilst handling the sale of my property. She gave her best at all times and kept me up to date with what was happening at every stage of the sale process. Her empathetic understanding of my situation helped to reduce a lot of potential stress. I will definitely call on Terri if I ever need to sell again and would have no hesitation in recommending her services and the Ray Dobson Real Estate team to anyone who is considering buying or selling property.
- Kelly Gledhill. - 32 Pell Crescent Mooroopna.