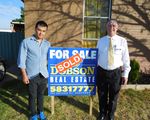 'I am Really Impressed.'
To Geoff Heap,
It is with great pleasure that I thank you for getting through the whole process of selling my property. My experience with you and the Ray Dobson Real Estate team has been a positive one and I would happily recommend your services to my family and friends should they need any real estate services in the future. I am personally really impressed by your public dealing, social and professional communication skills.
- Liaqat Gulzari. - 12 Westmorland Crescent, Shepparton.