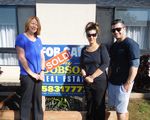 Delighted with Quick Sale.
Terri was fantastic to deal with in the sale of our home. She always kept us up to date with progress and from day one we were clearly informed of what to expect of the whole process of the sale. We were extremely delighted with how quick our home sold and how smooth the process went. We highly recommend Ray Dobson Real Estate to anyone who is considering buying or selling a property.
- Jimmy & Jo-Anne Avramopoulos, - 36 Abernethy St, Shepparton.